Delivery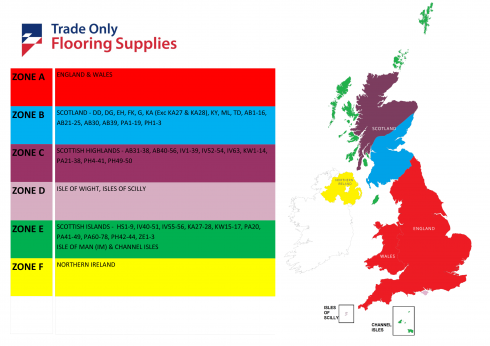 Delivery Charges
ZONE A £7.50 up to 20kg

+ £0.30 per each extra kg

ZONE D £13.00 up to 20kg

+ £0.35 per each extra kg

ZONE B £7.50 up to 20kg

+ £0.30 per each extra kg

ZONE E £21.00 up to 20kg

+ £1.05 per each extra kg

ZONE C £18.50 up to 20kg

+ £0.95 per each extra kg

ZONE F £18.50 up to 20kg

+ £0.95 per each extra kg
Click the map above to enlarge.
Delivery Lead Times
Zones A, B, D and F - next working day (Not Guaranteed).
Zones C and E - 2 to 4 working days (Not Guaranteed).
Above based on orders placed by 12.30PM
Please Note: Our couriers will always attempt delivery to a neighbouring property if there is no reply at the delivery address.
Please be aware on bulk orders we may use a palletised delivery service.