What is the best flooring for your kitchen?
22/02/2019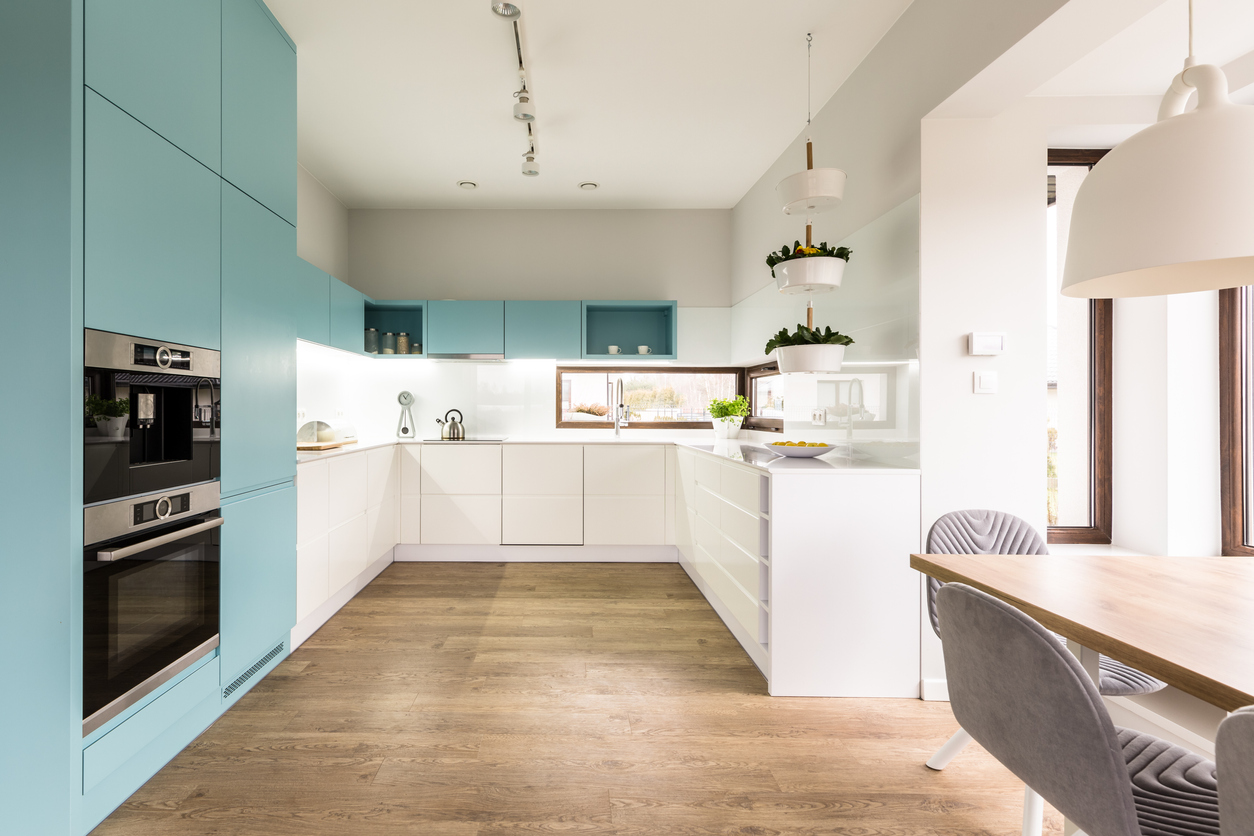 Whether you are a residential contractor or a homeowner with a passion for home improvements, you will probably agree the kitchen floor is one of the most important flooring choices in the home.
The best kitchen floor must be easy to clean and resistant to staining, it must be comfortable underfoot, safe to walk on when wet and, naturally, it must look good too!
This blog will help you choose the best flooring for your kitchen, with the most important factors taken into consideration.
Your kitchen floor must be easy to clean
This one should be obvious. The kitchen is almost always a hive of activity in the home, and the kitchen floor can take a battering. Muddy footprints, shoe scuffs, cooking and drink spillages and more; depending on how you use your kitchen, you would be smart to choose a kitchen floor that is easy to clean up.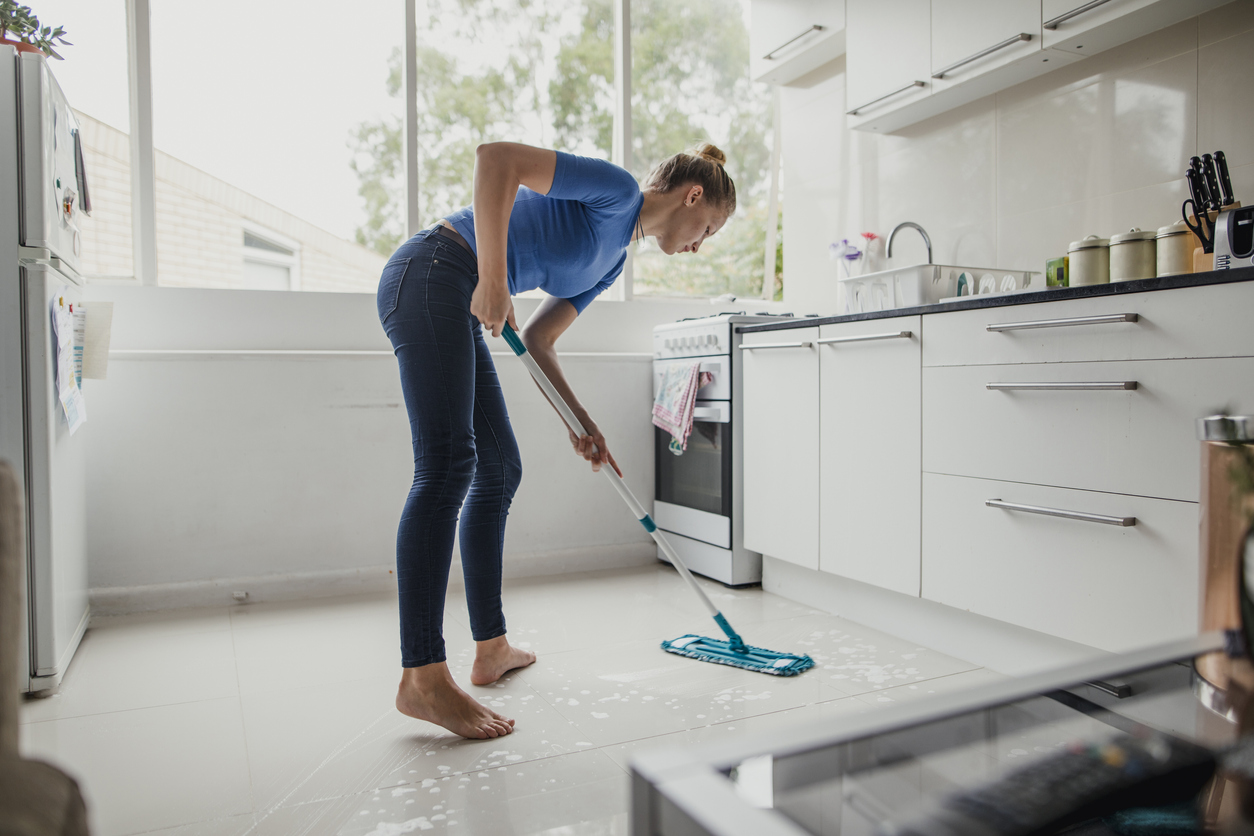 Some of the best kitchen flooring surfaces for ease of cleaning include:
Hardwood: Providing it is sealed and finished appropriately, hardwood is a classic look with great durability. It can be expensive though!
Ceramic Tiles: Hard to scuff, beautiful to look at and easy to clean. There's a reason ceramic tiles are so popular in rooms full of activity. Just watch out for cracks!
Vinyl: Versatile and capable of imitating most floor types, vinyl is very easy to clean – just be careful, as it can be more easily scuffed.
Laminate: One of the cheapest and easiest to clean options. Not the most premium choice, but great on a budget.
Stone/Concrete: Stone can handle almost anything and offers an easy-to-clean rustic look for any kitchen.
It must be hard-wearing and resistant to damage
Cleanliness is important when choosing your kitchen flooring type, but so is its resistance to damage. Your kitchen floor will probably endure a physical pounding over its lifetime from dropped pans, appliance leakages, acidic spillages, and general wear and tear.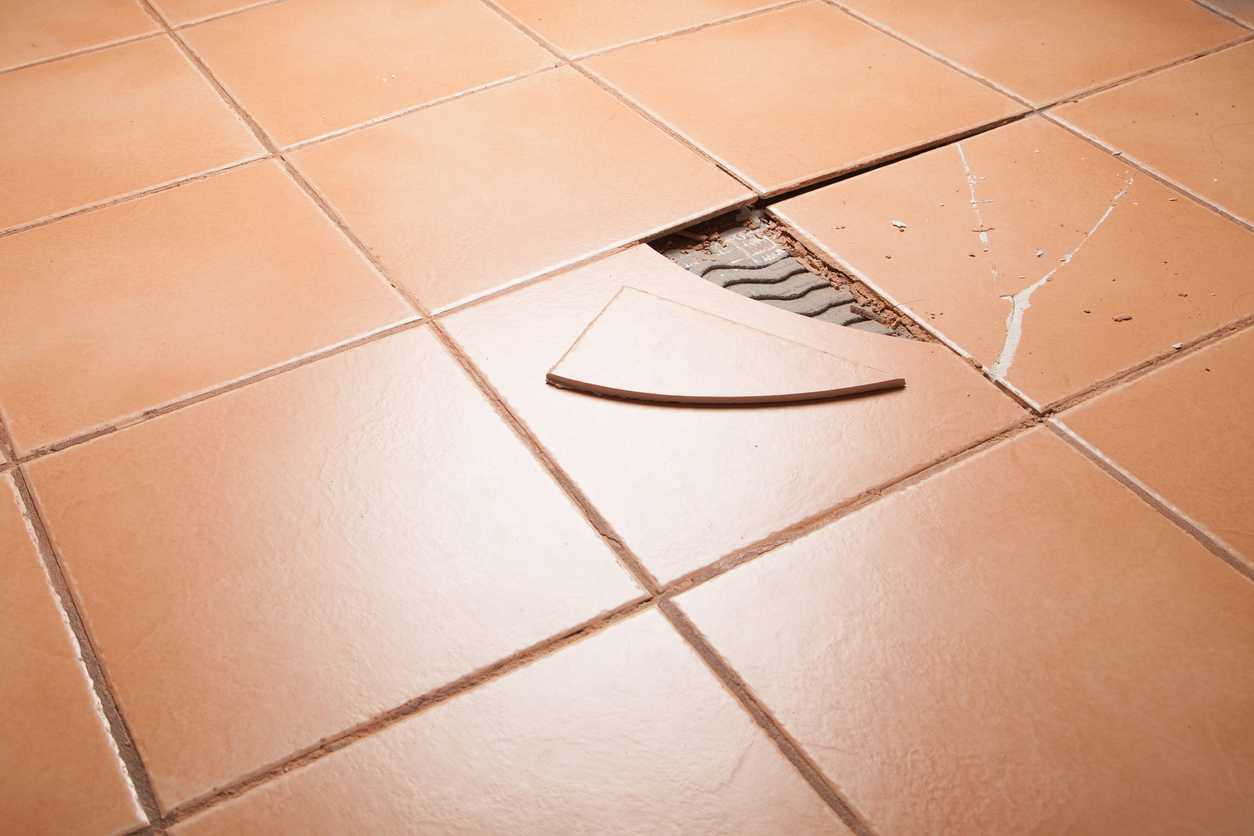 When choosing your kitchen floor, be sure to consider its resistance to the following:
Dropped items: Pans full of water, small appliances, plates of food. They can all be dropped and potentially crack fragile surfaces, such as ceramic tiles.
Damage from leakage: If one of your appliances leaks, it can sometimes leak water beneath your flooring, making it unstable and liable to cracks when stepped on.
Corrosion from chemicals: Fizzy drinks, descaler and other kitchen liquids can corrode certain floor types over time. Limestone, for example, can be spoiled by acids.
It must be comfortable underfoot
Kitchens are among the most widely used rooms in the whole home; what's more, it is a room where most of the time spend within it is stood up. If you don't choose the right kitchen flooring to accommodate your feet, you can experience all kinds of problems.
Certain types of flooring can cause all kinds of problems if they are stood on for lengthy periods. Choosing the wrong kitchen floor can lead to potential issues for your feet, legs, knees and more.
Ceramic tiles, for example, can become uncomfortable for joints when stood on for a long time. In a bathroom, this is fine, as you are unlikely to be stood in your bathroom for extended periods – in the kitchen, this is not the case.
Carpet seems like an obvious choice for underfoot comfort. Unfortunately, for a kitchen, carpet may be far too susceptible to damage and staining for a viable kitchen floor.
Consider the following surface types if you want to avoid common problems with standing on hard flooring for a long time:
Cork/Bamboo: Eco-friendly options that offer significantly more give than hardwood, whilst maintaining stain and damage resistance.
Linoleum: Softer than vinyl flooring and made of renewable materials, so it is friendly on the environment as well as your joints.
Wood/Laminate: Slightly easier on the feet and joints than hard or stone flooring, but not quite as soft as the above.
If the majority of your kitchen standing takes place in one area, why not try an area rug or mat? These can offer excellent cushioning for feet and joints and are much easier to clean and replace than whole floors!
It must look good!
Appearance may not be top of the practical considerations list when choosing the best kitchen flooring solution – but it's still very important!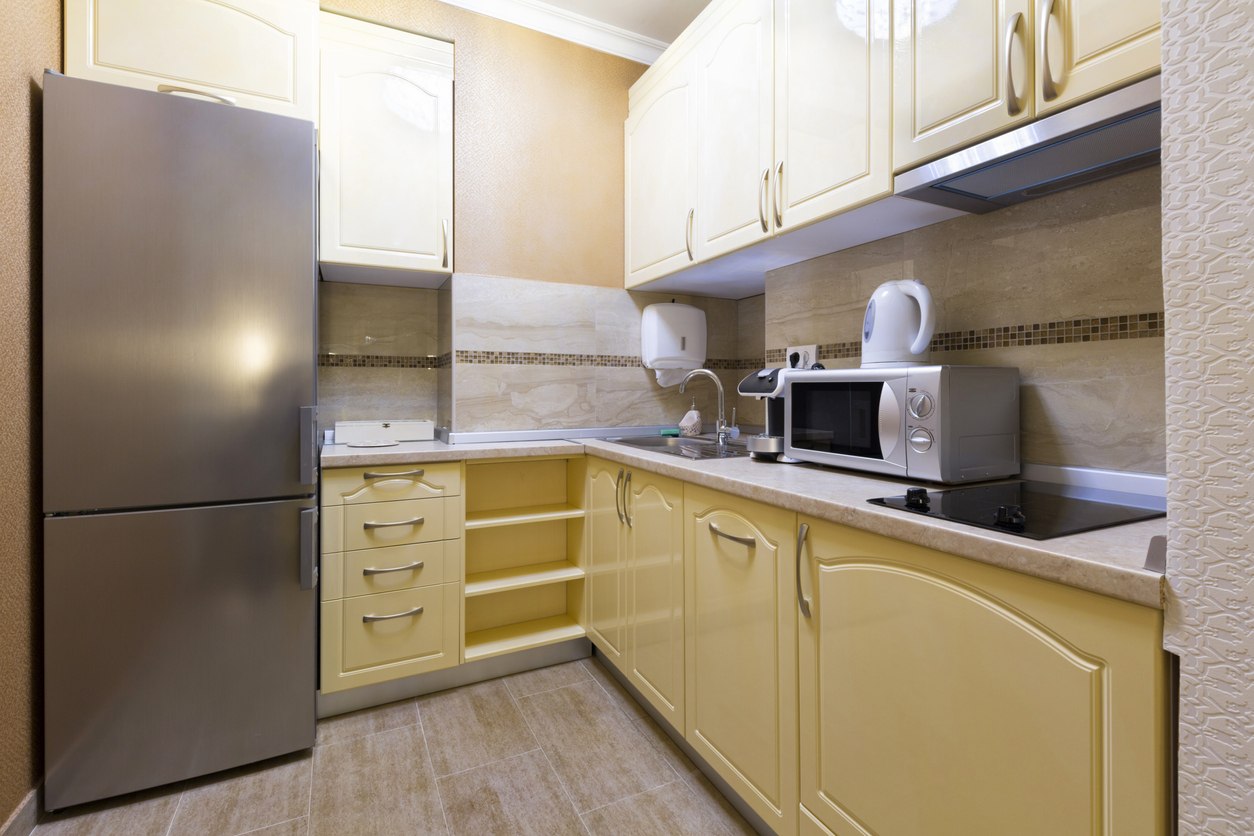 Many home improvement designers consider the kitchen floor to be the most important factor when designing a perfect kitchen. The visual appeal of your kitchen floor can influence the rest of the room in a big way.
The best-looking kitchen floor solution is purely subjective, but here are some that are considered the most attractive by design experts right now:
Rustic wood & imitation wood: The rustic farmhouse look is very popular in 2018 and looks for a natural, aged look. This can be achieved with both real wood and laminate if you want to cut costs.
Grey: Grey, especially when combined with brushed stainless steel, is one of the most popular flooring trends in 2019 and can be applied to almost every flooring type.
High contrast colours: Many designers are choosing to be loud and proud with their flooring designs. This can be achieved with any flooring type, particularly tiles, vinyl and laminate.
So, what is the best kitchen flooring solution?
As you might have guessed, it is impossible to say which the best kitchen flooring solution is, as there are so many choices for so many budgets. Every flooring type has its pros and cons, and every homeowner or customer has a difference sense of what is ideal for their kitchen.
We hope this article has been helpful in identifying which kitchen flooring solutions are good for dealing with the various factors and challenges it may face. The best kitchen flooring choice is determined by its suitability to the individual's taste, budget and use.