The 6 Top Flooring Trends for Autumn 2018
26/07/2018
Success as a trade floor fitter means understanding the latest trends and expectations of customers. Make sure they are as proud of your work as you are by keeping things fresh and on trend.
To give you a head-start - here's five of the latest flooring trends ahead of the Autumn season.
Loud and proud carpets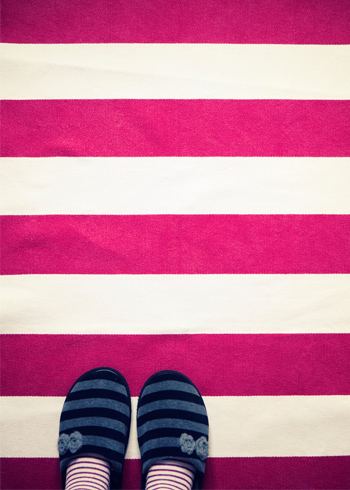 Try rich, bold colours and high contrast patterns. For a subtler choice, try light greys and dusty blues.
Carpet is dead, long live carpet! Every year we think carpet is on its way out in favour of lower maintenance vinyl, laminate or wooden floors. Every year carpet steps up to prove its worth and popularity.
Many home decorators are opting for richer, bolder colours, offering a pleasant contrast between floor, walls and furniture. 2018 is the time to be daring, creative and opt for the louder, more personal colours that can really elevate a room.
Patterns are also back, with many traditionally 'clean' and simple carpet designs being perceived today as dull or unimaginative. Be bold and have fun with your choices!
If going loud is not an option, there is a lot of love in 2018 for light greys and dusty blues. Beige, however, is now seen as a little tired and dull.
Textures
For carpet, comfort is still a major selling point. Soft textures are therefore always popular. If your customer wants a little more character, try a lightly textured or ribbed carpet.
Carpet Tiles
Individuality and character is a central theme in 2018. By using geometric carpet tiles of a variety of complimentary colours, you can create dazzling and unique patterns that are easy to install and sure to leave an impression.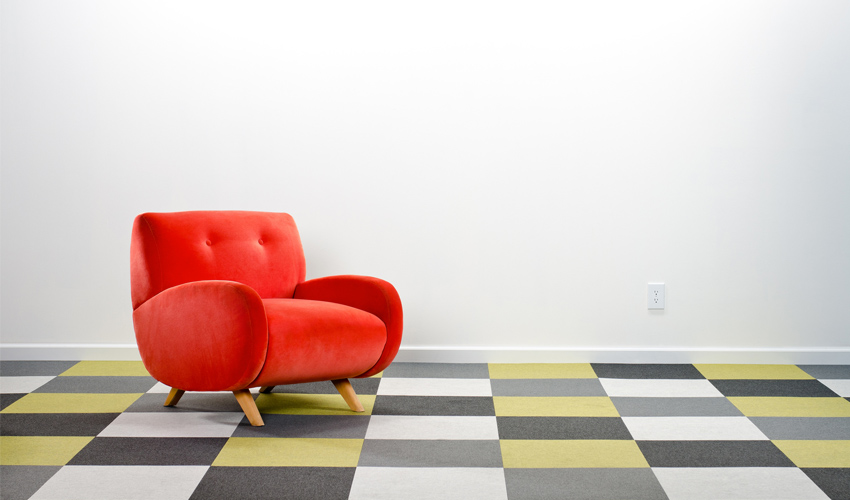 Vinyl wood-look flooring
As an affordable, versatile and durable flooring surface, vinyl is difficult to beat.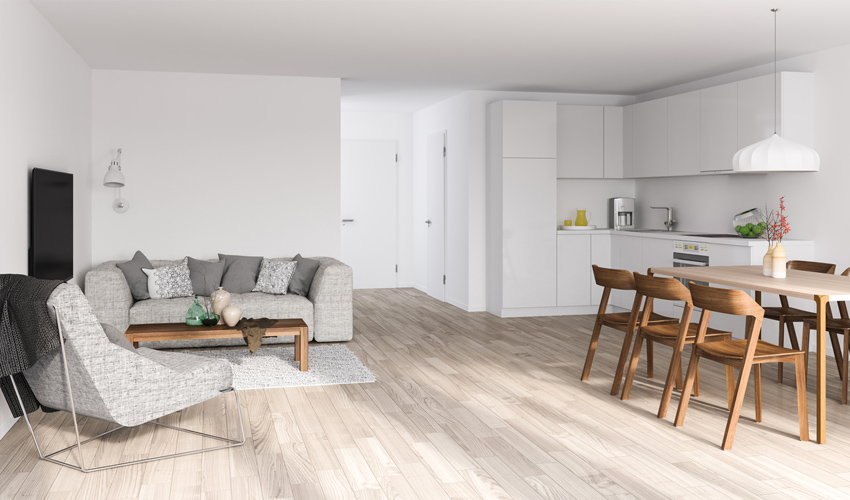 In 2018, we are seeing the popularity of wood mimic flooring reach new heights. Visually, modern vinyl floors are almost indistinguishable from real hard wood flooring - but they cost a fraction of the price. They're also a safe bet to still be on trend in 5 years' time!
Consider experimenting with wire-brushed finishes to give the vinyl a natural, authentic look. No natural wood is flawless, and the prettiest usually have signs of age.
Distressed laminate flooring
Imperfection is the new perfect, with many home stylists recommending Distressed finishes for laminate wooden flooring.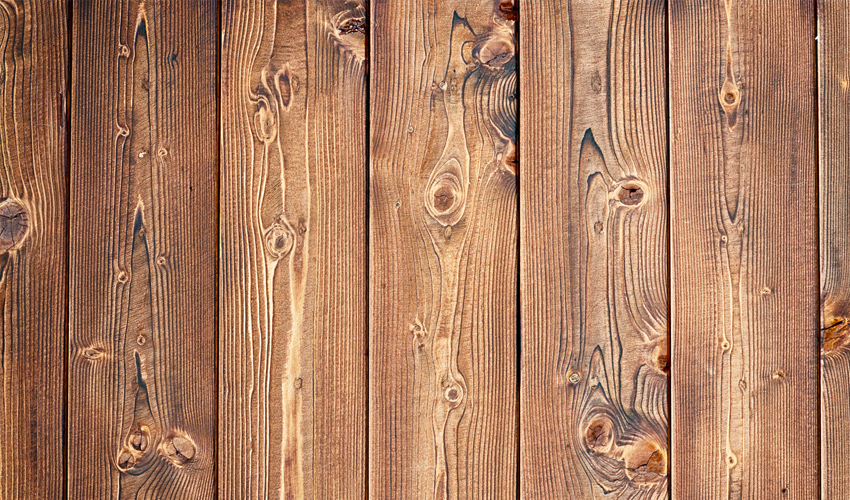 Distressed wood-look laminate looks just like reclaimed hardwood and provides an authentic industrial or rustic flavour, both hugely popular looks in 2018.
The only way is grey?
Grey has become one of the most sought-after colours in the home, particularly for flooring.
What was once considered a 'dull' colour is now at the absolute forefront in both high street fashion and in the home.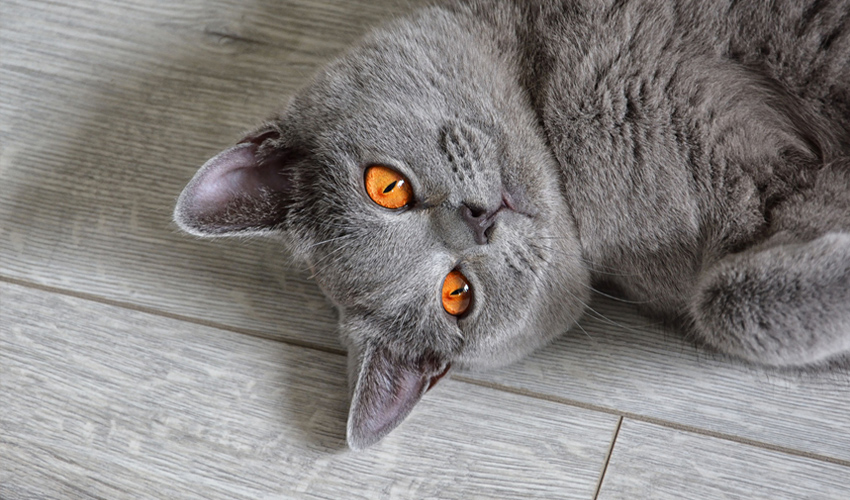 Grey is a calming, elegant and neutral colour which is a little more exciting than white or cream, without trying too hard to show off. Grey can be both cool and warm depending on shade and finish.
Whether you're installing a carpet, hard-wood, vinyl or laminate floor, grey is the go-to colour for many of the most influential home stylists in the UK right now, so why not join them?
Eco-friendly flooring
As the UK is becoming more environmentally conscious, more and more people are looking for ways to contribute to greener efforts in the home.
Flooring is no exception. The good news is more environmentally friendly options can be just as beautiful and practical as traditional choices.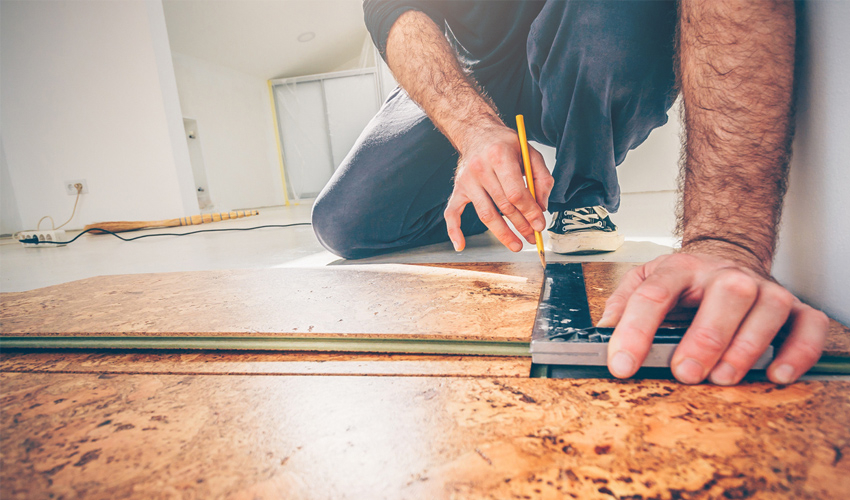 Cork and Bamboo flooring offer beautifully quirky and natural finishes, while other recycled materials such as Glass, Rubber and Reclaimed Wood are also seeing a growth in popularity. Linoleum also offers an attractive synthetic solution, but one that doesn't use chlorinated petrochemicals in its production.
If your customer is looking to do their part for the environment, one of these flooring solutions could be perfect for them.
Celebrate Individuality!
2018 is a year to celebrate individuality. In the search for this, homeowners everywhere are looking for unique decorative options that bring personality and character to their rooms. Traditional choices remain popular, but if there was ever a year for thinking outside the box and getting creative with your flooring installations, 2018 certainly seems to be it.
Last Updated: Thursday 26 July 2018